Morrison's Quarry, located off of highway 105 in Wakefield, Quebec, is one of the region's most popular scuba training sites. It is also a very popular camp ground and home to concerts and festivals during the summer months. Add a bungee jump into the mix and you have a very happening place.
The green/blue water of the quarry reaches a maximum depth of 139 ft with visibility of about 25 ft in the summer to over 100 ft in the spring and fall. There are 2 distinct thermoclines that bring the temperature to 4-5 degrees at the bottom, no matter how hot it is outside.
Winding downwards along the perimeter is the old access road, acting like gigantic steps that spiral down to the bottom. There is a plane at 35′ and a tugboat at 60′ both purposely scuttled to provide interest for divers. There are also two cars — one driven over the edge during the shooting of a movie action sequence, and the other driven over the edge by some bone-head car thieves.
There is a fee of $20 payable to Mrs. Morrison or one of her sons upon arrival. A dive site liability register must be signed at time of payment, so make sure you have your SSI / PADI diver ID number. Contact phone number: 613-298-0536.
Don't Forget your F.Q.A.S Quebec Diving Permit
morrison_quarry_mapAmenities include:
ample parking (included in $20 surcharge)
washrooms with showers right next to the dive site
cold drink machine
wood stove
BBQ
30 picnic tables
floating sundeck, water slide and sandy beach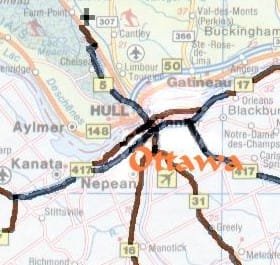 Directions (30 minutes from Ottawa)
From the Queensway, take the Nicholas/Mann exit
Stay on Mann (Mann turns into King Edward)
take King Edward to the sign that says Hull, Quebec 5 (King Edward turns into the 5)
Follow the 5 North towards Maniwaki
Follow sign that says Lancaster/Wakefield to the right, and then turn left at the lights
Follow the 105 North to Morrison's Quarry, located on the right hand side of the road (look for the white rock and the Great Canadian Bungee Jump tower)